---
This makes things much easier for me as I have to test/repack many abandonware titles for their integrity and 4GB space per volume is really not enough. I hit up Macintosh Garden the day before they went into maintenance and also found some more cool things at Macintosh Repository for my nostalgia needs. My host uses M.2 SSD (Micron M600, 512GB) and a conventional Evo 830 (256GB) as well as a 7200RPM SATA (~186mb/s) on a 4GHz 4790K CPU with 32GB of RAM running Windows 7 x64 SP1.

UPDATE: It didn't take too long, though it uses about 4GB of RAM (Host cache, not bzip2 itself) to accomplish during expansion. Due to the linear nature of this task, it held 128mb/s on average when I watched it in resource monitor. This sort of activity is not great for the health of a SSD, but the MTBF is decent these days so I'm not too worried as the benefits outweigh the negatives in the case of emulation and other intensive operations. Thanks for pointing me to the files.



Code:

powershell -Command {Measure-Command {start-process bunzip2 -argumentlist "--fast --keep 120GB.img_.bz2" -wait}}

Days : 0
Hours : 0
Minutes : 12
Seconds : 50
Milliseconds : 638
Ticks : 7706383863
TotalDays : 0.00891942576736111
TotalHours : 0.214066218416667
TotalMinutes : 12.843973105
TotalSeconds : 770.6383863
TotalMilliseconds : 770638.3863






Code:

PS D:\> ls .\120GB_.img
Directory: D:\
Mode LastWriteTime Length Name
-a---- 6/24/2016 10:16 AM 1228800204 120GB_.img






Code:

PS D:\> bc
bc 1.06
Copyright 1991-1994, 1997, 1998, 2000 Free Software Foundation, Inc.
This is free software with ABSOLUTELY NO WARRANTY.
For details type `warranty'.
1228800204 / 1024 / 1000 / 10
120






Code:

PS D:\> bc
bc 1.06
Copyright 1991-1994, 1997, 1998, 2000 Free Software Foundation, Inc.
This is free software with ABSOLUTELY NO WARRANTY.
For details type `warranty'.
1228800204 / 1024 / ((12 * 60) + 50) / 10
155




Sustained rate is around 155mb/s.

Mac OS Standard (HFS) uses 1MB blocks according to http://macintoshgarden.org/apps/disk-images-emulators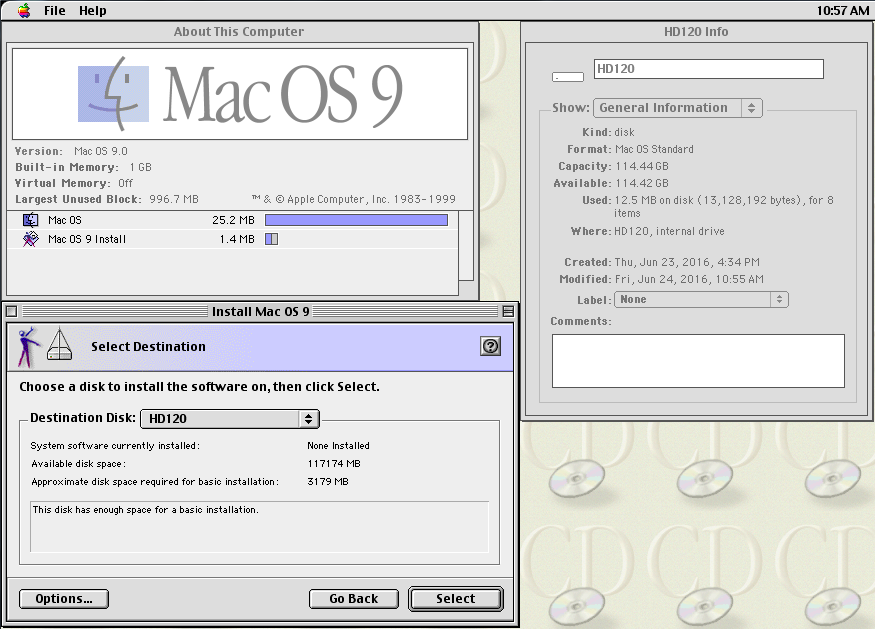 It was recommended to use HFS+ to get around this, but in actuality you cannot format the disk again using the pre-created images. The following will happen:

Reformat as Mac OS Extended (HFS+)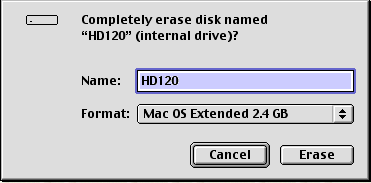 Now requires 194MB instead of 3179MB. (16x less space than is required with HFS without plus due to block sizes, but you lose 114683MB as the partition map presumably gets mangled)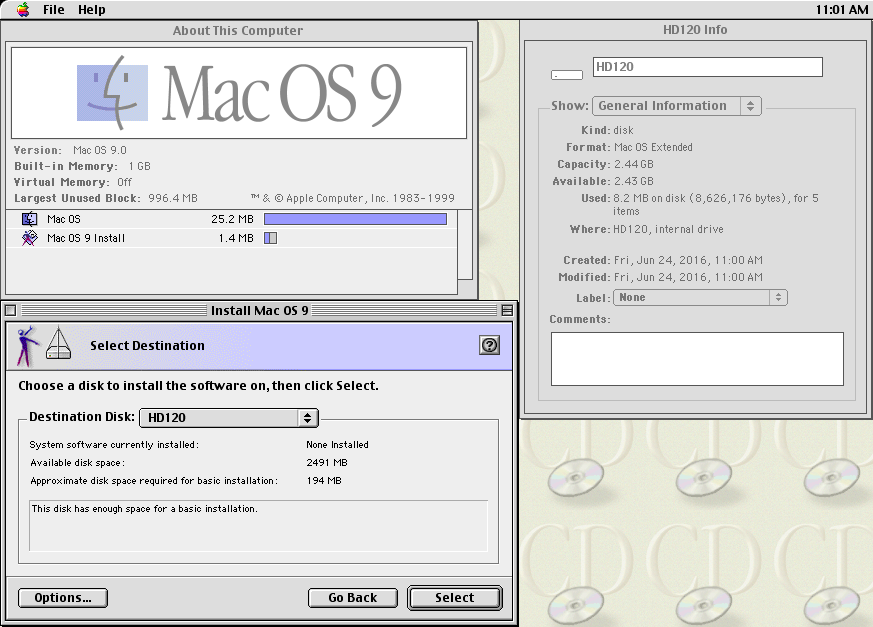 Reformatting as Mac OS Standard again will not restore the missing 114683MB, nor halting, nor rebooting, nor another ROM, and finally it will still occupy 120GB of space on the host filesystem. The only point of using the 120GB image is for excessively large games such as click and point adventures with cinematics or titles which have large single files otherwise an 8KiB file will occupy 1MB each anyways. In theory you could use Linux fdisk with it mounted as loopback and manually re-create the partition table for the image and format using hfsutils to make it plus but that'd just be a waste of effort.

From the disk images page, that-ben wrote:


Quote:

In other words, if you're planning on using this 30GB drive in Mac OS 9, you should consider using the other file (HFS+) instead, it will contain MANY MORE files even if it's the same drive size as this one.



I will be using 4 30GB volumes due to these limitations.

PS: I'm using 2MB New World ROM now and the disk shows up as "Internal Drive" now with that image.