---
I've been having problems with VocalWriter in SheepShaver to the point where it's next to impossible to use. The audio is delayed and very choppy when previewing single notes, and whenever I try to play anything (even if there are no notes programmed) I get this error message: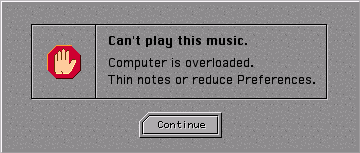 My preferences are set to the lowest number of polyphony possible, and I only ever have one or two notes in a single channel/track sequence. Yet I'm still getting the error message above.

Preferences menu: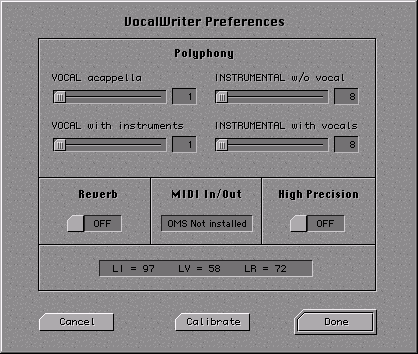 I looked in the ReadMe file that came with the software, and came across a list of system requirements: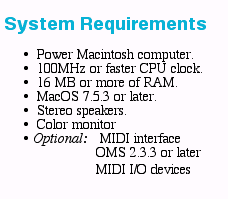 I meet and even exceed all of these requirements, except for one I'm not too certain about, which is the CPU clock speed. I read somewhere that the CPU clock speed is dependent on the host machine, so this shouldn't be a problem (if that's the case).

VocalWriter uses the (MacOS) system's built-in General MIDI synthesizer for its instruments, and the (MacOS) system's built-in speech synthesizer for vocals. I've noticed that when using the speech synth to "read aloud" text I've written in SimpleText, as well as previewing the synth in system settings, that it is very choppy as well.

Here's a list of my system specs


Quote:

Host Machine
Host OS: Windows 10 Creator Update (64-bit)
CPU rate: 3.2 gHz
Physical RAM: 8 GB
HHD Size (that SheepShaver is installed to): 1 TB
SheepShaver
OS: MacOS 8.6
MacOS RAM: 1024 MB
ROM Type: 1997-11 - 79D68D63 - Power Mac G3 Desktop
ROM Size: 4MB
Miscellaneous
'My Computer' icon on Mac desktop enabled.
Polling enabled.
QuickDraw acceleration disabled.
Sound output enabled (obviously).
Idle CPU useage enabled.
Illegal memory access disabled.
JIT compiler enabled.
Built-in 68k DR emulator disabled.


Here's debug information from the stdout.txt file


Quote:

SheepShaver V2.3 by Christian Bauer and Mar"c" Hellwig
Reading ROM file...
Using SDL/waveout audio output
Detected CPU features: MMX SSE SSE2 SSE3 SSSE3
PowerPC CPU emulator by Gwenole Beauchesne
WARNING: RmvTime(00905620): Descriptor not found
WARNING: RmvTime(00905644): Descriptor not found
WARNING: RmvTime(00905668): Descriptor not found
WARNING: RmvTime(0090568c): Descriptor not found
WARNING: RmvTime(009056b0): Descriptor not found
WARNING: RmvTime(009056d4): Descriptor not found
WARNING: RmvTime(009056f8): Descriptor not found
WARNING: RmvTime(0090571c): Descriptor not found
FATAL: PrimeTime(): Descriptor not found
FATAL: PrimeTime(): Descriptor not found
WARNING: RmvTime(00905620): Descriptor not found
WARNING: RmvTime(00905644): Descriptor not found
WARNING: RmvTime(00905668): Descriptor not found
WARNING: RmvTime(0090568c): Descriptor not found
WARNING: RmvTime(009056b0): Descriptor not found
WARNING: RmvTime(009056d4): Descriptor not found
WARNING: RmvTime(009056f8): Descriptor not found
WARNING: RmvTime(0090571c): Descriptor not found
FATAL: PrimeTime(): Descriptor not found
FATAL: PrimeTime(): Descriptor not found
WARNING: RmvTime(00905620): Descriptor not found
WARNING: RmvTime(00905644): Descriptor not found
WARNING: RmvTime(00905668): Descriptor not found
WARNING: RmvTime(0090568c): Descriptor not found
WARNING: RmvTime(009056b0): Descriptor not found
WARNING: RmvTime(009056d4): Descriptor not found
WARNING: RmvTime(009056f8): Descriptor not found
WARNING: RmvTime(0090571c): Descriptor not found
WARNING: RmvTime(00905620): Descriptor not found
WARNING: RmvTime(00905644): Descriptor not found
WARNING: RmvTime(00905668): Descriptor not found
WARNING: RmvTime(0090568c): Descriptor not found
WARNING: RmvTime(009056b0): Descriptor not found
WARNING: RmvTime(009056d4): Descriptor not found
WARNING: RmvTime(009056f8): Descriptor not found
WARNING: RmvTime(0090571c): Descriptor not found
WARNING: RmvTime(00905620): Descriptor not found
WARNING: RmvTime(00905644): Descriptor not found
WARNING: RmvTime(00905668): Descriptor not found
WARNING: RmvTime(0090568c): Descriptor not found
WARNING: RmvTime(009056b0): Descriptor not found
WARNING: RmvTime(009056d4): Descriptor not found
WARNING: RmvTime(009056f8): Descriptor not found
WARNING: RmvTime(0090571c): Descriptor not found




The ppc.log file is empty for some reason.

Does anyone know what the problem is, and how to fix it?
-The Xealot