I thought it would be nice if Basilisk would allow ports to be exposed outside the virtual network without requiring tun/tap or root privileges, so I decided to investigate the source code. I came across a nice little function,
slirp_redir
, which wasn't being called anywhere but did exactly what I wanted. So I added some code for accepting "redir" as a preference item, and now it works.
If you are using slirp networking you can forward a port by adding to your prefs file a line such as the following:
This will forward TCP port 8000 on the host to port 80 in the virtual machine, assuming its address is 10.0.2.15. You can actually leave out the IP if it is 10.0.2.15, because that is the default.
The code is online here:
https://github.com/clehner/macemu
You can find a Linux binary, built on Fedora 17, here:
https://github.com/clehner/macemu/downloads
I'll try to add a binary for OS X soon.
Here is a screenshot.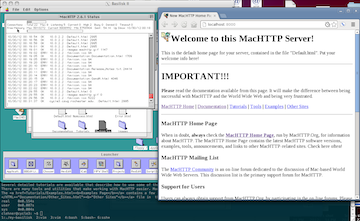 Present issues
:
When a program in the emulator listens on a port, at least with TCP, there is a delay of 16 seconds to start the listening. When connecting from the host there is sometimes another delay of 16 seconds. When connecting from other hosts there does not seem to be this delay.
Using 0.0.0.0 as the client address does not work well, so you have to specify the client's address if it is something other than 10.0.2.15 (although in my experience it is always 10.0.2.15).