Sorry for the delay in getting back to this topic.
ndejonge wrote:
I tried using mess with ~/mess/roms that contains maciici.zip.
And in maciici.zip I use 368cadfe.rom, because my "$ mess maciici -lr" told me it required that ROM.
Newer mess versions may require a maciici.zip with 341-0735.um11, 341-0736.um12, 342-0733.um9 and 342-0734.um10.
Anyway, I then ran "$ mess maciici -listmedia" to see the supported media, and tried to run "$ mess maciici -flop1 System70_boot.dsk".
But it seems mess' Mac emulation only supports 800k floppies at this time.
That's as far as I got.
MESS works fine with hard disk images, and I've got a screenshot to prove it.
Haven't tried it with 7.0, but maciici with 7.5.3 works great. You have to use chdman to create the hard disk image, and then I think you have to convert anything you want to put into it into chd format as well. It's definitely not fun, and I remember having to fiddle around with it a lot when I set mine up years ago, but it works.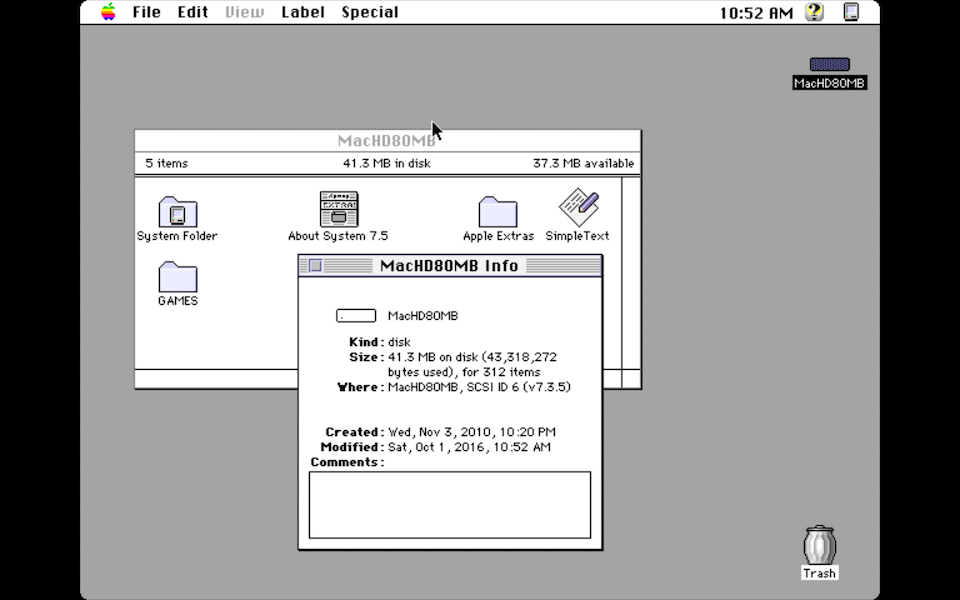 adespoton wrote:
Probably a better solution would be to use Mini vMac's Mac II emulation; it can use the same IIci ROM that MESS uses, but it actually works. And the emulation is more accurate than BII.
Unfortunately, Mini vMac's Mac II emulation isn't quite there yet. Whenever I try to start Prince of Persia 2 in it (3.4.1, built from source with Mac II target), I get a bomb message with "Unimplemented Trap".